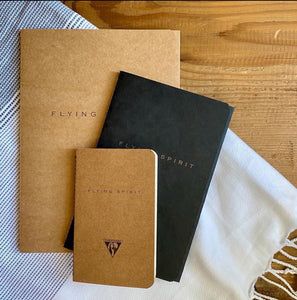 Flying Spirit Sewn Spine Lined Notebooks
Regular price $10.00 Sale
Clairefontaine's Flying Spirit various sized notebooks are a classical styled clothbound notebook with premium ivory coloured paper. The notebook has the Flying Spirit title on the front, and the back features an inspirational quote and drawing to keep you motivated through even the deepest writer's blocks.
Claire-Fontaine journals are designed in France and handmade in Morocco. The journals are made with acid free paper, sourced from certified sustainable forests and manufactured with care for the environment. Each page has a perfect satin finish for maximum smoothness in writing. 
Large: 14.8 x 21 cm, 96 pages, 48 sheets.
Medium: 11 x 17 cm, 96 pages, 48 sheets.
Small: 7.5 x 12 cm, 48 pages, 24 sheets.