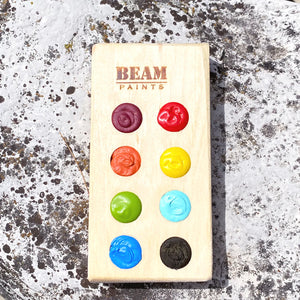 Tisgeh'dah Children's Paint Palette
Regular price $32.00 Sale
Introducing "Tisgeh'dah" lets colour it in Ojibwe!
These colours have been third party tested by the toxicologists at Duke University and Cambridge Materials testing to meet and exceed the standards for safety for children's paint. they are not toxic or hazardous and meet LHAMA and ASTM D4236 standards for artist materials! Through this process they have earned the right to bear this seal.
They are also made with the dedication to lightfastness and quality, as artists of all ages even those in kindergarten deserve the joys that handmade paints can bring! And knowing that their safety has been considered to the highest degree! 
Although it appears to be a small amount, this paint is only pigment and binder which creates a very concentrated colour and lasts a long time. 
Colours: summer sun red, cherry magenta, pumpkin, fall poplar, spring green, blue sky, great ocean, blueberry mountain