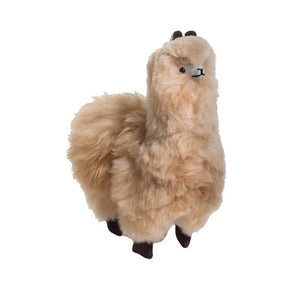 Alpaca Fur Doll
Regular price $22.00 Sale
NO DRAMA LLAMA.
The all time best seller, this alpaca will keep your days in perspective. Made from 100% ethically-harvested, silky-smooth baby alpaca fur by independent Peruvian artisans.
This is real and ethical fur. No animal cruelty was involved in the harvesting of this fur. Furs and skins are harvested with natural recycling - they are harvested after an alpaca's natural death. It is illegal to kill alpacas in Peru with the penalty of jail. No animals are harmed for any Poko products.
The softest, most luxe companion you'll ever have.
Hand-stitched plastic bead eyes. Hand-stitched threaded mouth and nose.
Non-itchy, hypoallergenic, silky-smooth, and handmade stuffed friend for kids and adults. Resistant to piling and matting. Water and stain resistant.
These are one-of-a-kind animals are made with all-natural alpaca fleece, they are made with no synthetic dyes or synthetic fur.
Ultra soft hand feel, luxurious texture. Soft and gentle on the skin. Alpaca is hypoallergenic.
Therapy animal, brings calm and joy into a space and into your everyday. Alpacas are used as therapy animals in professional practice. The huggable alpaca's peaceful disposition make them a favorite for animal-based therapies.
Made to last. Alpaca is exceptionally durable. Will last a lifetime if cared for properly.
Excellent gift for friends, parents, young and old, on any occasion.
Fairly-traded and ethically-sourced. from traditional, highly-skilled, and independent Peruvian artisans.
Amazing and unique home decor piece.
Made from baby alpaca, one of the finest kinds of alpaca. Baby alpaca refers to the very first shear of any alpaca, when the hair has never been shorn before. Learn more about alpaca here.
Alpaca is one of the Earth's most sustainable fibres. Alpacas have soft, padded feet, not hooves, which minimize soil erosion. They consume relatively less water than other animals, and have efficient digestion, low level feeds, and they only nibble on top of pasture grass without uprooting it. No harsh chemicals are necessary to process alpaca.
Alpacas are like sheep, their fleece is sheared in cycles according to the seasons.
Status symbol. In Incan history, alpaca was considered the "fibre of the gods," and reserved for royalty. Domesticated more than 6000 years ago, the alpaca represents a unique South American textile tradition.
These animals have not been tested for children's safety and they are not recommended for children under 3 years old.
Fairly-traded. Hand-made by highly-skilled independent Peruvian artisans with whom we work directly.