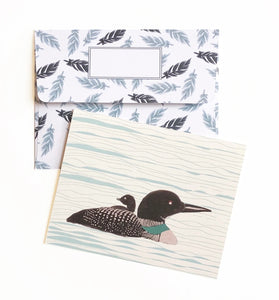 Artistry Card - Loons
Card size is 4.25"x5.5"
All our single cards are printed on 100% recycled paper and include A2 pattern envelopes. Packaged with a peel-away sticker.
Blank inside 
Artistry Cards is a boutique paper company offering a wide range of stationery products based in Toronto. 
Artistry Cards was founded in 2009 by artist and designer, Swati Bhagat. Owning her own print studio already and wanting to have her own stationery company one day. This ended up coming true when Artistry Cards debuted at the National Stationery Show in 2009. Swati's deep appreciation for both nature and urban lifestyle is playfully represented in her designs. 
We believe that as a greeting card company with a conscience we have always considered the environment when making and packaging our products.

Since the launch of Artistry Cards, all our products are made of recycled stock and approved by the Forest Stewardship Council. Our art prints and notebooks are packaged in bio-degradable clear sleeves. Boxed cards are packaged in 100% recycled paper. Our greeting card sleeves are now producing from 100% recycled paper.