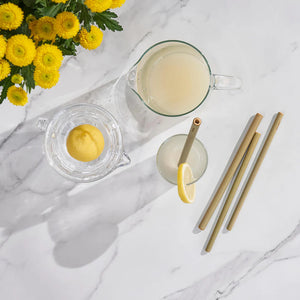 Bamboo Reusable Straw
No doubt, you have heard about the staggering number of plastic straws that are used and the impact that has on our environment. We say ditch the plastic and choose a reusable bamboo straw. No inks, no dyes, no more throw-away straws.
We introduced these first commercially available bamboo straws in 2012 and won the Eco-Choice Award for the newest and innovative product in 2015. bambu® reusable bamboo straws are the only straws that are 100% USDA certified organic. They are durable, beautiful, and cut from nature.
Juice, iced tea, smoothies or cocktails, kombucha, whichever drink you or your kids prefer, a reusable bamboo straw completes it. Enjoy your straws guilt-free. Plus we've included our plant-based handy cleaning brush to clean them out for years of use.
Size: 8"