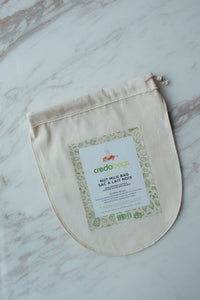 Credo Nut Milk Bag
Regular price $10.00 Sale
Say hello to the newest member of our eco-friendly family! Making your own plant-based dairy-free milk is good for you – and for the environment! Fewer preservatives and additives into your body than store bought nut milks; less packaging that ends up as landfill.
This sustainable, reusable bag is made from a fine but durable weave of 100% certified (GOTS) organic cotton. It strains pulp efficiently from your ground almonds, hazelnuts, pistachios, coconut, hemp, flax, rice, oats and more – resulting in creamy pure filtered milk!
This multi-purpose straining bag can also be used to:
Filter cold brew coffee, juices and kombucha!
Press tofu, cheese and yogurt
More sustainable than nylon and conventional cotton bags.  Our unique design with rounded outside seams allows for easy cleaning -pulp does not get trapped in corners or between seams.
Credobags…always here to facilitate your quest for a Zero Waste household! 
Measures – 9" x11"
Made from 100% Certified (GOTS )Organic Cotton (preshrunk)
Natural and undyed
Washable