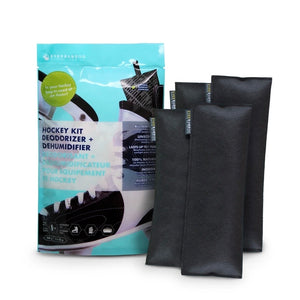 EverBamboo Hockey Kit Deodorizer +Dehumidifier
Regular price $14.00 Sale
Is your hockey bag in need of an Assist? 
Are you tired of the "face-off" between your stinky skates and gloves?
Meet 'Ever Bamboo' – Nature's OdourEnforcer.
While most sprays just mask odours and create damp surfaces, Our easy-to-use bamboo charcoal inserts are the two-on-onethat deodorizes AND dehumidifies, putting the STINK in the penalty box for good!
Just pop the Ever Bamboo inserts into your skates, gloves, and bags and score! It's the save your hockey bag has been waiting for.
ALL NATURAL bamboo charcoal
UNSCENTED - eliminates odours instead of masking them
LASTS UP TO 1 YEAR - reactivate under sunlight every 30-60 days
What is bamboo charcoal?
Harvested from the rapidly growing Moso Bamboo, its naturally occurring porous structure has millions of microscopic holes which pull and absorb odour and moisture from the air. Bamboo charcoal is natural, sustainable, reusable and recyclable. With its non-toxic and eco-friendly attributes, it is literally nature's way of eliminating life's stinky stuff!