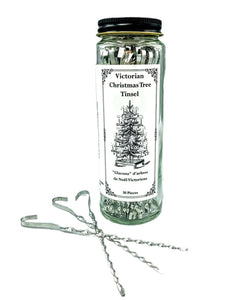 Handmade Victorian Christmas Tree Tinsel
Regular price $0.00 $25.00 Sale
Handmade in Lancaster, Ontario from Pietersma Tinworks.
This timeless decoration adds a finishing touch to any tree.
The multiple twists on each piece will add sparkle and shine to your home.
Packed in a sturdy container for storage, each tube contains 50 pieces of tin tinsel.
Pieces are 5.5 inches long. The width at the middle of the taper is roughly 1/8″.
Made from tinplated steel (will hold shine for many years).
Made in Canada
***Caution***
Not for use by children.
Edges may be sharp, handle with care.