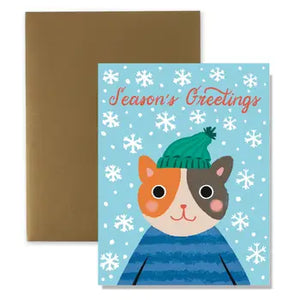 Hello Holy Days - Calico Cat In The Snow Season's Greetings
 About Hello Holy Days!
Hello, my name is Manal and I design fun products for Muslim holidays! Growing up in Canada, I didn't see the holidays my family celebrates represented in our neighborhood stores so I set out to change that because I believe we must be the change we wish to see in the world.
Woman owned. Made in Mississauga, Ontario.
About this product
A cute calico cat with a winter hat wishes you season's greetings amidst a snowy backdrop. A2 card size with kraft envelope. Blank inside.
---
Details
• Made in Canada • Dimensions: 14 x 10.8 cm (5.5″ x 4.3″)