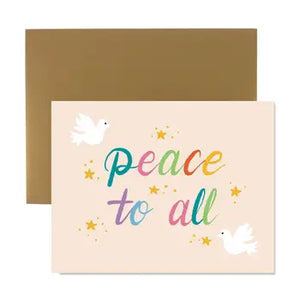 Hello Holy Days - Peace to All Doves and Stars
 About Hello Holy Days!
Hello, my name is Manal and I design fun products for Muslim holidays! Growing up in Canada, I didn't see the holidays my family celebrates represented in our neighborhood stores so I set out to change that because I believe we must be the change we wish to see in the world.
Woman owned. Made in Mississauga, Ontario. 
About this product
Wish colorful greetings of peace this holiday season with this simple brushlettered card with docile doves and sweet stars. A2 card size with kraft envelope. Blank inside.
---
Details
• Made in Canada • Dimensions: 14 x 10.8 cm (5.5″ x 4.3″)