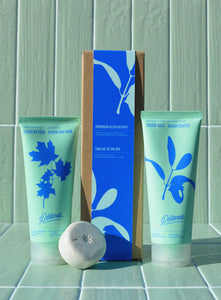 Les Pétards Body Kit Gift Set
Regular price $50.00 Sale
Set of essential treatments for a spa evening at home. Treat yourself to this trio including a 60g verbena cleansing bar, a mineral scrub with sugar and epsom salt as well as a moisturizing cream with hyaluronic acid and Labrador tea. With this set, we promise you soft and hydrated skin.
How to use – For the perfect self-care moment, start your shower experience with our cleansing bar. Once the skin is clean, exfoliate the dry skin areas. For a gentler exfoliation, add a little water to the mixture. Rinse and dry your skin. Finish your treatment with a layer of our super moisturizing cream. Note that it is always nice to accompany this little treatment with relaxing music and a little sweetness. After all, you deserve it!
Scent – Fresh oceanic smell with a hint of bergamote, verbena and lime.
Box size – 10in high / 3in wide / 3in deep. The box contains a 200 ml moisturizer, a 220 ml scrub and a 60 g cleansing bar.
To find out the ingredients of the products offered, go to the respective individual product page.