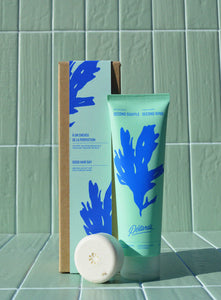 Les Pétards Hair Kit Gift Set
Regular price $31.00 Sale
Essential hair care set as easy to give or buy for yourself. This box includes a 250 ml tube of our wonderful Second Wind conditioner as well as a 60g shampoo bar. Have you always wondered what dreamy hair looks like? Stop searching, this set has everything you need to make it happen!
How to use - Slide the shampoo bar a few times on wet hair. Lather the product like a regular shampoo. Rinse. On the length of the hair, apply a small amount of conditioner and leave in for a minimum of 3 minutes. Rinse off and admire your mane. For a beauty evening, use the conditioner as a hair mask and leave it in 15 minutes.
Scent – Fresh and botanical scent with lime essential oil, bergamot, lemon verbena, cedar leaf and oceanic notes.
Box Size – 10in tall / 3in wide / 3in deep
To find out the ingredients of the products offered, go to the respective individual product page.