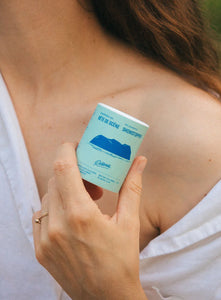 Les Pétards Showstopper Dry Shampoo
Regular price $13.00 Sale
The show must go on. Because time flies, this botanically scented dry shampoo is your best helper. You'll be back in the spotlight in no time.
Texture - A silky powder that doesn't stick to the hair to avoid a powdery effect.
Directions – Place some powder in your hands and apply to dry hair all over the scalp. Leave on for 1 to 2 minutes. Using a towel, shake your hair to remove the powder completely. Scent - Fresh, botanical scent of lime essential oil, bergamot, lemon verbena, cedar leaves and oceanic notes.
Format – 1 bottle of 50 g. (2.5in tall x 2in diameter)
Ingredients - Brown rice powder, British Columbia glacier clay, Fragrance (100% natural), Bergamot essential oil, Lime essential oil, Cedar leaves essential oil, Lemon verbena essential oil, Vitamin E.