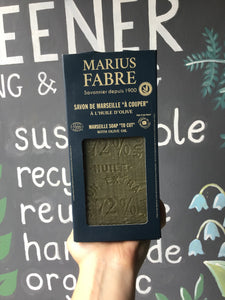 Marius Fabre Marseille Soap "To Cut"
Regular price $45.00 Sale
Particularly respectful of dry skin, olive oil Marseille soap is ideal for the whole family and all skin types. It is 100% natural, extra pure and biodegradable, making it a must in our bathrooms.
100% natural
For more than 118 years and four generations, our family has been making Marseille soap exclusively from a rigorous selection of vegetable oils. It contains no colouring and no synthetic additives. It is free of petroleum-based products and animal fats, unlike most of the other soaps and shower gels on the market.
Gentle on the skin, natural and effective
The traditional Marseille soap manufacturing process is a guarantee of "Extra Pure" soap that is entirely free of impurities. It is gentle on all types of skin, even the most sensitive ones (babies, people with allergies, etc.). Thanks to the nourishing properties of olive oil, Marius Fabre olive oil Marseille soap helps your skin keep a more natural moisture balance*.
* Dermatological study SVHO/99, Montpellier Faculty of Medicine, Dermatology department
Gentle on the environment and economical
Made from vegetable oils, biodegradable, phosphate free and additive free, it does not pollute rivers and helps protect the environment. What's more, it requires very little packaging. It lasts a long time, especially when left to dry out. A durable, thrifty buy.
Ask for the registered logo by the "Union des Professionnels du Savon de Marseille". This logo guarantees a genuine Marseille soap, produced following 3 criteria :
1. Soap composition : 100% vegetable oils, no added fragrance, colouring-free and additive-free.
2. Manufacturing process : The "Marseille process" where the soap is cooked in cauldrons for about 10 days.
3. Geographical origin : Made in Marseille and the region of Marseille.
Marius Fabre soap factory is one of the four founding members of this union of Marseille soap makers, founded in 2011 to defend and promote real Marseille soap.
Ingredients
-  Olive oil
- Coconut oil
- No colouring, no added fragrances, no preservatives
-  No chemical additives
- No palm oil
Ingredients (INCI) : Sodium olivate, Sodium cocoate, Aqua, Glycerin, Sodium chloride, Sodium hydroxide.
Net weight : 1 kg