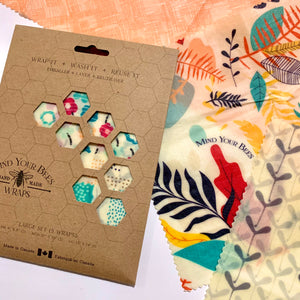 Mind Your Bees Beeswax Wraps
Regular price $30.00 Sale
Handmade in Hamilton, ON, MYB reusable beeswax wraps come in a wide array of colours and designs. Each set comes with two small, two medium, and one large wrap. 
Made of cotton fabric and coated with beeswax, these wraps are a biodegradable, earth friendly replacement for plastic wrap. Naturally anti-microbial and washable, they're great for covering dishes, storing leftovers, preserving herbs, and folding into snack bags.
The patterns of these wraps are one of a kind so we welcome your requests for cool or warm tones (please add any such requests to the 'Notes' at checkout) and we will do our best to accommodate your request!  Otherwise, surprises are fun right?