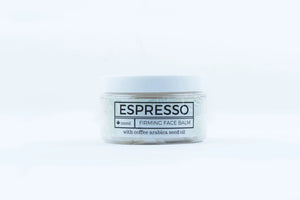 Parkdale Butter Espresso Firming Face Balm
Regular price $28.00 Sale
100% natural formula
⁣Reduces redness and inflammation
Increases skin elasticity with lecithin and vitamin E ⁣
⁣No water, preservatives, perfumes or dyes - Just the good stuff!⁣
⁣🍁Proudly Canadian🍁 ⁣
Say hello to quick absorbing, deep hydration!
Espresso Face Balm helps to stimulate circulation, which relieves redness, inflammation, irritation, and puffiness.
The Arabica coffee seed extract is made by cold-pressing coffee beans to produce a potent elixir that is both antimicrobial and anti-fungal. The antioxidants in this coffee seed extract have been shown to protect skin from damage.  
Espresso Face Balm is ideal for all skin types!
This moisturizer contains no water, preservatives, perfumes, dyes or additives.
Ingredients: Non-GMO Soy Butter, Arabica Coffee Seed Essential Oil, Love
Directions: Spread a pea sized amount through your fingertips and massage into your face until fully absorbed. 
For use as a make up remover, use a pea sized amount to gently massage the area, and then wipe off with a cotton pad.