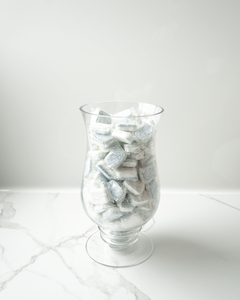 PURE Dishwasher Tabs Bulk
The Pure Dishwasher Tabs are phosphate free, chlorine free and toxic acid free. They are biodegradable and safe for septic tanks.  No need to pre-wash your dishes; the tabs eliminate stubborn stains, burned food residue, tea, and coffee stains. In addition, they dissolve fat without leaving traces on your dishes, glasses and cutlery!  The tablet is encased in water-soluble in PVA and disintegrates in the wash - no need to unwrap. 
This is a package-free bulk item so order the number of tabs you want and we will ship them in a recyclable paper bag.