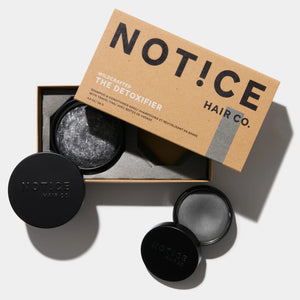 Notice Hair Co. Travel Set - The Detoxifier - Shampoo & Conditioner Bar (with tins)
Regular price $42.00 Sale
The cleansing power of activated charcoal works to gently remove build-up that can lead to brassiness for blonde and gray hair, or that "weighed-down" feeling, while nutrient-rich aloe vera, rejuvenates the hair improving elasticity and banishing breakage. 
Clarifying treatment, for most hair types, use as required (use caution with vivid hair colors).
 BEST FOR: build-up, blonde & gray hair
All travel sets come with a set of silver tins.
FEATURES:
Essential oil scenting
Approximately 50-75 washes (will vary)
Color-safe, vegan & cruelty-free
Black hair bar travel tins

DIRECTIONS:
SHAMPOO: Apply bar directly to wet hair and massage with hands until desired lather is achieved. Alternatively, lather bar in hands and apply to hair. Rinse thoroughly, repeat as necessary.

CONDITIONER: Apply bar directly to wet hair. Start at roots and smooth bar towards ends. Wait 3-5 minutes before rinsing fully. Reapply to ends as a leave-in to detangle, rinse as required.

Dry and style hair as usual. For external use only, avoid contact with eyes, rinse thoroughly with clean water if contact occurs

CARE:
Simply place bars on a bar dish with drainage for daily in-shower use. Keep bars away from spraying and pooling water or store outside of shower. For best results when traveling, pat bars dry before storing in tins. DO NOT store wet bars in travel tins or use tins for in-shower storage.

SIZE:
SHAMPOO = 2.5 inches round, 2 - 2.3 oz (size may vary)
CONDITIONER = 2 inches round, 1 - 1.2 oz (size may vary)