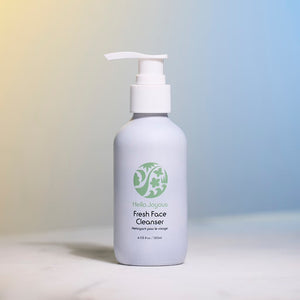 Hello Joyous Fresh Face Daily Cleaner
Regular price $27.00 Sale
Hello Joyous
This anti-inflammatory certified organic cleanser is gentle on your skin while it removes excess oil, makeup, dirt and pollution. Infused with organic comfrey root, chamomile and golden jojoba, it helps promote a healthy skin tone leaving your skin supple and fresh.
This gentle cleanser is the texture of honey, goes on smooth and makes your skin feel supple and velvety smooth, not stripped and dry.

Infused with cold-pressed golden jojoba to balance and seal in moisture and chamomile extract to reduce redness and speed up cell regeneration.

Organic comfrey root is responsible for those little brown flecks you can literally see. It promotes a healthy skin tone, plus it's also anti-inflammatory and super soothing.